Magazine
The Katahdin Hairald Magazine
The Hairald is one of the main pride points of KHSI and a fantastic reason to join the organization. The Hairald is a quarterly magazine printed on high quality glossy paper, which makes for beautiful presentation of photography and advertisements. The magazine is filled with informative articles and news about our breed, and is definitely an archive-worthy publication. You can find past issues here in PDF format, too, for easier content searching! Click here to place an ad in the Katahdin Hairald.
---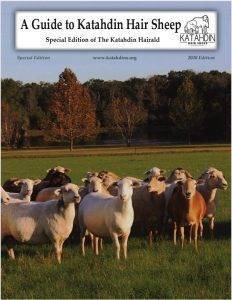 The Katahdin Hairald Magazine Special Issue:
A Guide to Katahdin Hair Sheep
A brand "New Guide" was published January 25, 2016. The guide is a special issue of the Katahdin Hairald magazine. This guide was compiled by Katahdin Hair Sheep International's Publications and Promotions committees. It has 40 plus pages of information on raising sheep, common health concerns, registering Katahdins. managing, selecting and frequently asked questions.
Printed copies of The Katahdin Guide are available for your own use or for handing to your buyers by sending $3.00 each to

KHSI Operations,
PO Box 739,
Fowlerville, MI 48836
You can download a free copy here
The deadlines for the 2023 Hairald are as follows:
| | | | | |
| --- | --- | --- | --- | --- |
| | Winter | Spring | Summer | Fall |
| Display Ad Deadline | Dec 7 | Mar 1 | May 3 | Sept 6 |
| Article Deadline | Dec 13 | Mar 6 | May 8 | Sept 12 |
| Display Ad Content Due to Xpressions | Dec 16 | Mar 10 | May 12 | Sept 15 |
| Classified Ads Due to Operations | Dec 21 | Mar 17 | May 19 | Sept 22 |
| Mailing Date (Bulk Mail) | Jan 27 | Apr 21 | Jun 23 | Oct 27 |
Past & Present Hairald Issues: